Published on:  July 22, 2022
The newest ESR in our meet the "Meet The ESR" series is Anish Shastri. Anish is ESR 4 from the University of Trento. Here´s what he had to say:
Tell us about yourself.
I am Anish and I am from India. A curious person, who always wants to learn about everything happening around. A highly ambitious and fun-loving person, who enjoys interacting with people. I enjoy travelling and exploring new places and cuisines.
What do you do for fun?
The most consistent thing I do and enjoy is cooking. I like to experiment with food. 
I also listen to music. I often go for a jog after work hours. Apart from this, I watch TV shows or movies (either comedy or suspense/Sci-fi) and football (a Bayern Munich and German national team fan :D).
Do you have any hidden talents or hobbies?
I enjoy solving puzzles in my free time.
What has been your favorite part of living in your host country?
I am living a "La Dolce Vita" life in Italy. My experience so far has been fantastic, with beautiful historical architecture, the scenic Italian Alps, great food, lovely people, the gelatos, and more. Though I had visited Italy earlier and was aware of what to expect, Trento and the Trentino region have just been an extraordinary experience.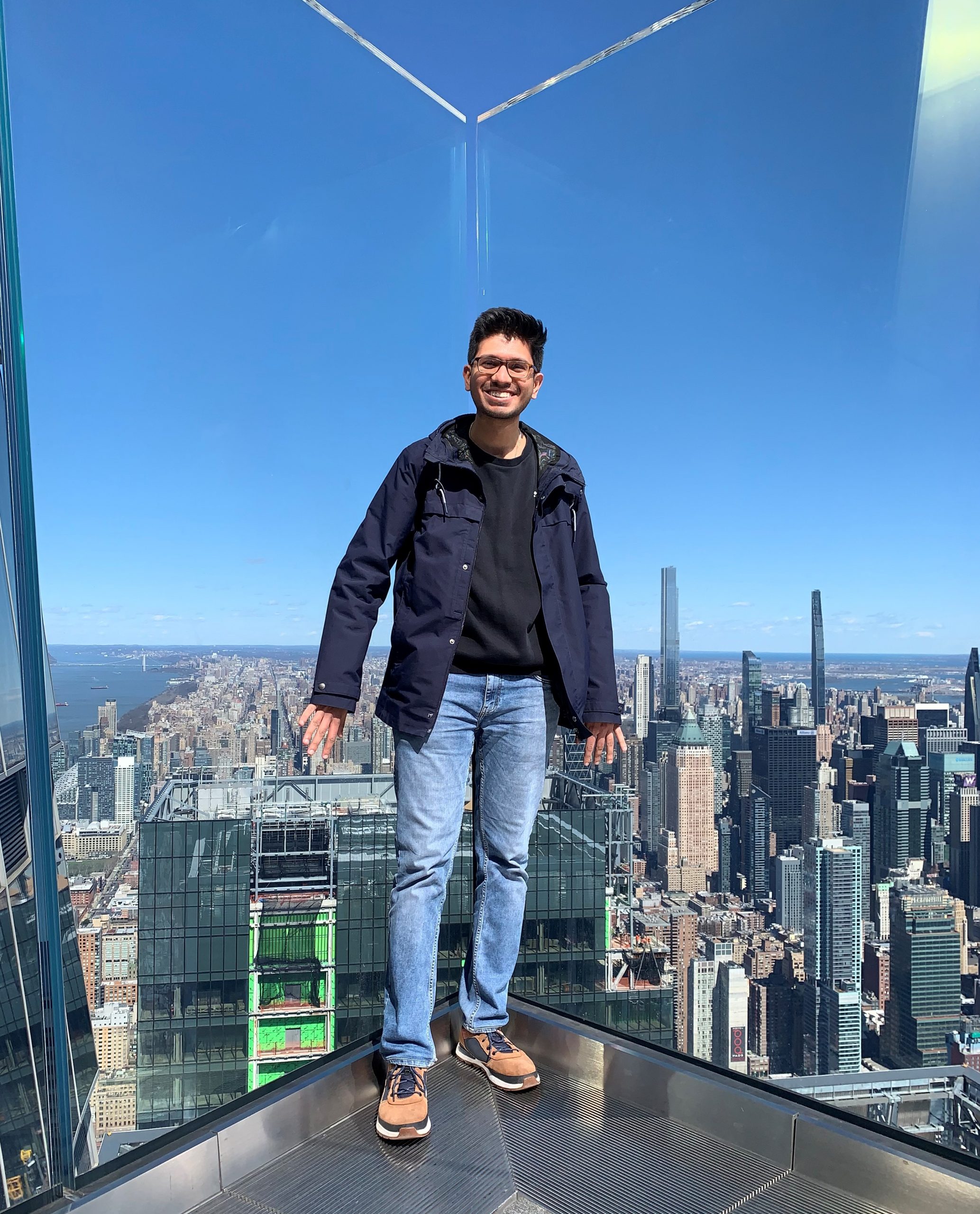 Tell us a bit about your home country!
I come from a city called Hyderabad in India. Though there is a lot of  information  available on the internet, the most exciting thing about India is that it is a Foodie's Paradise. The variety of cuisines across the different cultures, especially in different climates, is unmatchable, be it desserts, savories, or any other dish. 
What do you work on? 
My research work primarily focuses on the development of algorithms for device localization and location-aided network optimization for Indoor Millimeter-wave WiFi Networks. The idea is to exploit millimeter wave WiFi signals to extract signal parameters such as signal strength, angle of arrival, etc., to design low-complexity device algorithms. I also work on millimeter wave multi-radar data fusion for indoor sensing applications such as people tracking, identification, and human activity recognition.
How did you decide to do a PhD? 
During my Bachelor's degree, I got the opportunity to carry out my summer internship at Defence Research and Development Organization (DRDO), the premier R&D agency for Indian Military research. In those two months, I got acquainted with research. To better understand how research is done in academia, I decided to pursue a research-oriented Masters program. The program was like a mini-PhD, where we had to publish our research to graduate. After finishing my Masters, I was sure I wanted to pursue a research career. However, I was still not confident about a PhD. It was only after working at Nokia Bell Labs-Ireland with such a great team that I was headstrong about pursuing a PhD.
How has your experience been, of being an ESR so far?
It has been an incredible experience so far. I feel grateful to be given this opportunity to be a part of a project led by the top researchers in their respective domains. Interacting and brainstorming ideas with them is an amazing experience in itself. They, along with the management staff, have been very supportive, encouraging and understanding. 
It has been wonderful to meet, interact, and bond with the other ESRs. Although Covid disrupted our first three network-wide events, we finally met in person for the fourth event. Though we met for the first time, it never felt so. We had a lot of fun and a great time in Sweden, and I hope we will enjoy it even more in Brixen. Cheers! 
What motivates you at work?
The eagerness to find solution to problems and the "never give up" attitude always gets me through tough times. The other important principles that keep me motivated are:
1) Be a better version of yourself than what you were yesterday.
2) Learn from the mistakes and ensure you don't repeat them. Learn not just from mistakes you make but also from ones others make.
These have helped me to achieve my goals so far, and I am confident they will also help me for the rest of my life.
What is the most important thing you´ve learned in your PhD so far?
Strategize your work, and depending upon the situation, use a weighted combination of your gut instincts and logical reasoning to make any decision. You will seldom go wrong.
What makes your research relevant?
To navigate the outside world, we all use GPS. However, GPS does not work indoors. Therefore, there is a need to solve the indoor positioning problem, especially using existing infrastructure, i.e. WLAN access points. Given that millimeter wave technology has become a popular choice to serve users with very high data rates, it would be best to exploit these systems to precisely know the users' location. Position information is also useful for providing reliable and uninterrupted wireless services (given that millimeter wave signals easily attenuate due to blockages, unlike conventional WiFi signals).
What are your plans after the PhD?
To work in the Industry for leading R&D centers/labs, contributing towards the standardization of the next-generation wireless technologies.
What do you think about your host country? Do you see yourself living there in the future?
Definitely. Italy is one of the most beautiful countries in the world. Any great opportunity offered here would be among the top choices.
Do you see yourself moving to a new country?
It all depends on the opportunities. In the past, I have worked/lived (short-term) in different countries, and it's hard to predict the factors that could play decisive roles in my decision making. But, as long as the opportunity is in line with what I wish/dream to do in future, I am open to it. 
If you were able to stick until the end and can't wait for more content and you also want to know about us and our projects, you can always follow our social media channels.