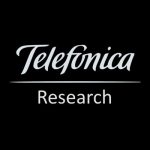 Telefónica I+D, the research and development company of the Telefónica Group, was founded in 1988 and its mission is to contribute to the Group's competitiveness and modernity through technologi
cal innovation. With this aim, the company applies new ideas, concepts and practices in addition to developing products and advanced services.
Telefónica I+D is one of the first private R&D centres in Spain as regards activity and resources, and is the first company on the continent by number of European research projects in which it participates. The main asset of Telefónica I+D is its staff, which is 97% composed of university graduates from 18 nationalities.
It currently collaborates with technological leaders and many organizations from 40 countries; among which figure more than 150 universities around the world. It also participates in the most important international forums on technological knowledge of the ICT sector, thus creating one of the largest European innovation ecosystems. Products such as the public phones in the booths currently used by Telefónica (1990), the large fixed and mobile network management systems (1990), data switches (1991), Internet access services (1996), developments for digital homes and connected cars (2000), the prepaid system for mobile phones (2004), interactive a la carte digital television (Imagenio) (2004), new services for television and new business models on the Internet (2006)… are some of the many results.
In its last phase, Telefónica I+D has grown to become a network of centers of technological excellence, extending its R&D activities to offices in Barcelona, Granada, Huesca, Madrid and Valladolid. At the same time, it is working for the companies in the Telefónica Group in the rest of Europe and America.